Designer's Collection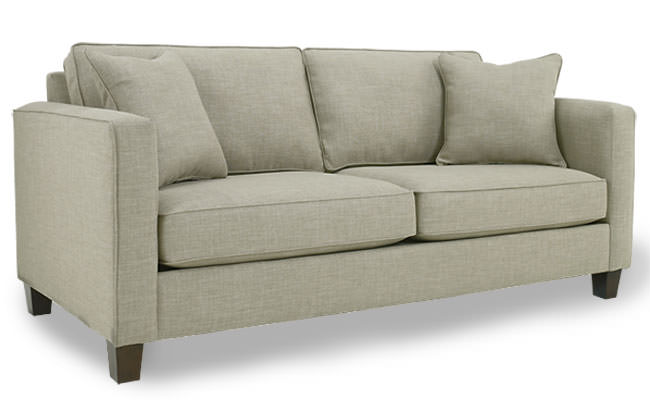 Description
Sleek track arms and box cushions give this group a modern look and feel. Both seat and back cushions are detailed with welt cord adding to the clean styling of this group. Walnut-colored tapered wood legs complete this set. *ALSO AVAILABLE AS A SECTIONAL-SEE ALTERNATE IMAGES FOR LAYOUT OPTIONS* *PLEASE NOTE: SOFA SECTIONAL WILL HAVE 3 CUSHIONS* Also available as a sleeper. Upgraded sleeper mattress and contract sleeper mechanism are standard. The sleeper mattress is a 6"H sleeper mattress featuring a gel-embedded memory foam comfort layer on top of an innerspring mattress. Please note: sleepers will have a taller front rail and shorter legs in order to accommodate the sleeper mechanism. All frames corner blocked. Products meet the requirements of the Bureau of Household Goods and Services Technical Bulletin No. 117-2013.
Product Dimensions
Length
Depth
Height
Body Fabric
Yds Required
Sofa/Queen
77
37
36
13
Love
54
37
36
11
Chair
32
37
36
8
1 arm sofa with return
89
37
36
15.5
1 arm sofa
73
37
36
13
1 arm love
51
37
36
10
1 arm chaise
33
67
36
9.5
Frame height including legs
32
Sectional Diagram
Print Image
Tear Sheet
Product Specifications
Seat Height: 19"
Arm Height: 28"
Frame height including legs: 32"
Wood Finish: Walnut
Inside Seat Depth: 20"
Leg Height: 4.5"